SPES Historical Fencing Gear is introducing Gajardoni masks into their offer. They are available for pre-order starting today!
---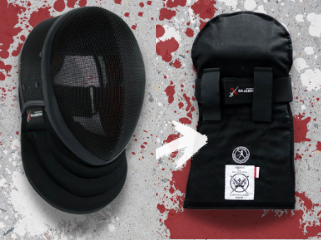 In June 2020, we informed about the end of the production of Gajardoni masks (Gajardoni ends production). Today it has turned out that the masks will come back to life. To celebrate the 10th anniversary, the famous Polish company SPES Historical Fencing Gear has prepared another surprise—a pre-sale of Gajardoni masks.
As we can read in the official statement, SPES has combined its forces with Franchini Blades SRL, who took over the Gajardoni brand in 2020 with its more than 100 years of tradition. This way, they will together preserve the heritage of Lucillo Gajardoni—the creator of solid and reliable Gajardoni Kombat Mask. As SPES informs, thanks to the co-operation, it has become the only distributor of a mask resistant to the strongest simulator hits.
The mask has the FIE 1600N certificate. It consists of two parts: a black steel mesh made of AISI 304 stainless steel and a black bib. It is equipped with a stabiliser and tied with a wide Velcro strap at the back. Additionally, the inner padding has an antibacterial cover.
SPES detailed information and specification of the Gajardoni Kombat Mask is available here.