On 23 and 24 April 2022, K.u.K. Military Fencing Tournament 2022 will take place in Prague. This yearly event is dedicated to fencing with weapons taught at the Theresian Military Academy in Wiener Neustadt.
---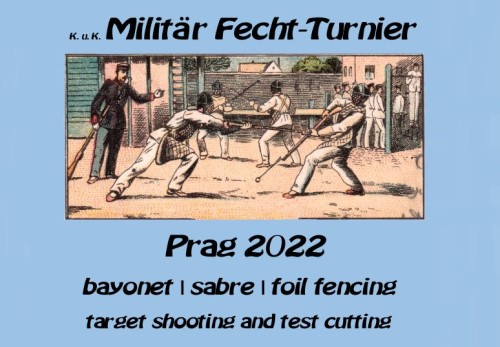 The event is the continuation of the tradition of eleven Austro-Hungarian "K.u.K. Armee Fechtturnier" tournaments, which took place in 1898–1914 alternately in Vienna and Budapest. The first one was held in 1898 during the celebrations of the 50th anniversary of the accession to the throne of the King Franz Joseph I.
The event is dedicated to all fencers interested in military fencing from the 1895–1914 period, no matter the level of advancement.
Three tournaments will take place. These will include bayonet rifle fencing, foil fencing, as well as sabre fencing. Each participant will chose two types of weapons: bayonet rifle and sabre or foil and sabre. The organiser will provide bayonet rifle and sabre, however, those interested in foil tournament will need to bring their own weapon.
The registration will start on Saturday at 9:30 a.m. and will last till 10:00 a.m. It will be followed by bayonet rifle and foil fencing preliminary rounds. After a lunch break, winners of preliminary rounds will meet to determine the finalists. Target shooting as well as cutting workshops are also planned. The day will end with a dinner.
Sunday will kick off with a preliminary sabre fencing tournament at 10:00 a.m. Sabre fencing eliminations will take place after a lunch break. At 5:00 p.m., the organisers plan to announce the winners and close the event with a ceremony.
The event will be held at a gym at náměstí Svobody 930/3, 160 00 Prague 6 Bubeneč 160 00.
Current information is available on the event's profile.